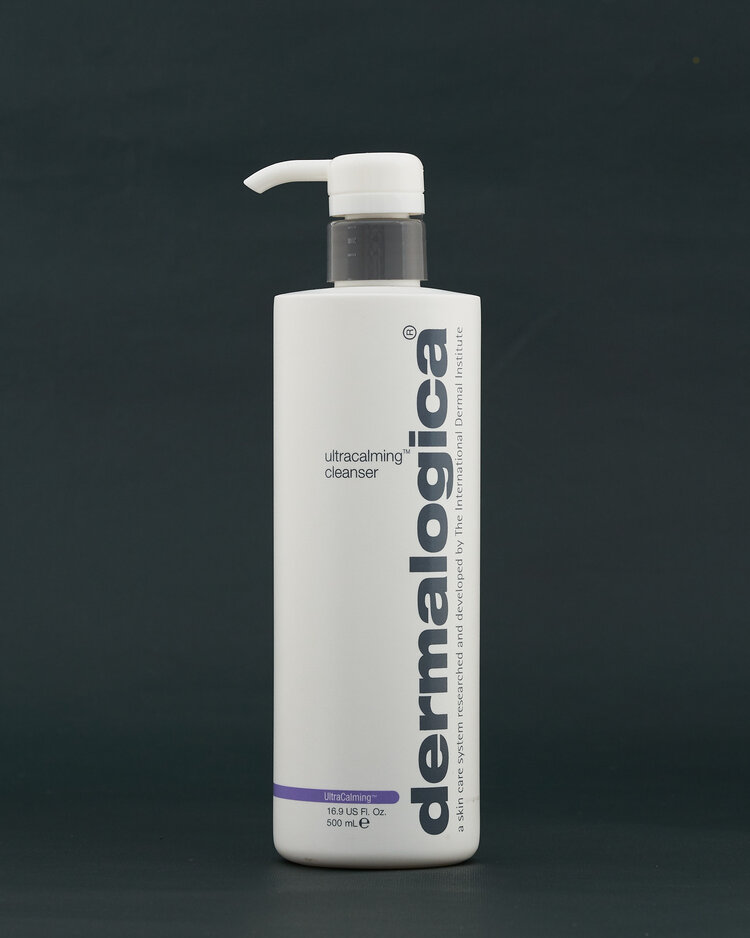 ultra-calming cleanser




Gentle cleansing gel/cream for reactive skin. This pH-balanced, non-foaming cleanser helps calm and cool reactive, sensitized or overprocessed skin. Delicately fortifies skin's protective barrier, without leaving an irritating residue, and easily rinses away or wipes off, making it ideal for sensitive skin. Can also be used for gentle eye make up removal.
Following the application of PreCleanse, apply to the face and throat, gently massaging with fingertips with light, upward strokes. Rinse thoroughly with tepid water or remove with dry cotton pads.
Follow with UltraCalming Mist or Redness Relief Essence and Barrier Repair. If needed a moisturiser and/or SPF can then be applied.
redness relief essence
Redness-reducing essence to calm and restore your skins balance to fight against sensitivity and irritation.

Apply to the face after cleansing with tapping motions. Apply ultracalming serum and/or barrier repair over the top whilst it is drying to increase results.
ultra-calming mist
A soothing, hydrating mist to help calm redness and sensitivity. Use post-cleanse to lock in hydration and prime skin for treatment with UltraCalming products. Lightweight mist quickly absorbs to support a functioning skin barrier, helping to minimise future flare-ups. Our exclusive UltraCalming Complex contains Oat and botanicals to help soothe and strengthen skin, and soothing Aloe helps calm while supporting a natural moisture balance in skin.
After cleansing, spray over face, neck and chest with eyes closed. For added benefits, press into skin.
Follow with;

ultra-calming serum concentrate
The solution for skin sensitivity. This super-concentrated serum helps calm, restore and defend sensitized skin. Our exclusive UltraCalming™ Complex contains Oat and botanicals to ease sensitization. Protective peptides plus Oil of Evening Primrose, Sunflower Seed and Avocado extracts help defend against future assaults.



barrier defense booster




Concentrated oil booster soothes, nourishes and moisturizes to restore balance to sensitive skin. Triple Defense Complex nourishes the skin, relieves dryness and reinforces barrier integrity against future irritation. Squalane locks in moisture while soothing Oat Oil helps combat sensitivity and support healthy-looking skin. Use as an alternative to UltraCalming Serum Concentrate for a more oil dry skin. Apply just prior to/or mix with your moisturiser for UltraCalming™ benefits.
Press bottom of bottle to release a stream of product. Dispense 6-10 drops into palm and rub hands together to activate. Pat gently over face, neck and chest. Use twice a day for continuous relief. Works even better when used in conjunction with Calm Water Gel to restore moisture and prevent dehydration.
We stock a full range of all dermalogica products in The Beautique. We will deliver in our local area or you can arrange a time for a collection. Call 01869245118 and leave a message for a call back or
email: janebeautique@btinternet.com
You may prefer to purchase products seen here by going direct to dermalogica using the link below
Weightless water-gel moisturiser rehydrates sensitive skin. This cooling gel formula transforms into a skin-quenching fluid upon application, forming a weightless barrier against environmental assault. Dual Hyaluronic Acid technology works in different skin surface layers to increase and lock in moisture. Apple Fruit Extract and Glycerin hydrate and soften while defending skin against dryness. Cactus Pear Extract helps soothe sensitivity and imparts water-binding properties to help support healthy moisture balance.

super light & calm, even on the most irritated skin.
Apply over mist/essence and serums, twice a day. Remember to add sunscreen during the day.

Invisible Physical Defense SPF30 is the recommended sunscreen for sensitive skins.
We are offering a loyalty incentive
(separate to the scheme we run for in-salon purchases )
Please email
janebeautique@btinternet.com with your contact details including address and phone no. to register your interest in this scheme.
More than a moisturiser this silky emollient helps fortify sensitive skin whose barrier has been compromised or aggravated. Use this unique, waterless moisturiser after misting/toning, to help shield against internal and external triggers that cause skin stress. Our exclusive UltraCalming Complex contains Oat and botanical actives that work below the surface to interrupt inflammatory triggers that lead to redness and irritation, at the same time helping to relieve the resultant discomfort, burning and itching. Protects the skin from further environmental damage with Oil of Evening Primrose, Borage Seed Oil and silicones h

elping to restore a healthy barrier function, and V

itamins C and E fighting free radicals that can lead to inflamed and irritated skin.
Apply a small amount evenly over face and throat with light, upward strokes. Best used following UltraCalming Mist/ Redness Relief Essence and UltraCalming Serum Concentrate/Barrier Defense Booster. Use twice daily, morning and night. Invisible Physical Defense is the recommended sunscreen for sensitive skins and should be applied over barrier repair for daylight protection. If neccessary a dermalogica skin health moisturiser can also be appied over barrier repair.
For most skins barrier repair is used as a remedy to skin sensitivity and can be replaced with a recommended moisturiser once skin function has normalised.