Is your skin dry or dehydrated? When your skin feels dry, you may naturally assume that it's dry. However, it might be dehydrated. It's important to know the difference so you can feel confident that the products you're choosing will yield the best results.
Both types can feel flaky, itchy or sensitive, tight, and dull
Dehydrated skin lacks water and can be experienced, at times, by anyone making it a treatable condition rather than a skin type. It can feel both oily and dry at the same time and the dryness may come and go dependant on internal and external factors. Dehydration can send skin into overdrive trying to protect itself, resulting in tightness as well as oiliness, and breakouts. You should choose water-rich products to help rehydrate and balance the skin.

Top moisturiser pick for dehydrated skin;
skin smoothing cream
Dry skin lacks in lipids (natural oils),is typically genetic, generally feeling constantly dry all over(especially in winter)
The skin's lipid barrier acts like a strong wall to keep moisture in and irritants out. You should choose lipid-rich products which will help restore this barrier to defend against dryness.

Top
moisturiser pick for dry skin;
intensive moisture balance
precleanse balm


Deep-cleansing balm-to-oil melts away impurities and make-up from skin. Super clean skin with the Double Cleanse regimen that begins with PreCleanse Balm. A combination of 13 different oils that makes skin feel nourished but not oily. More suitable for a dryer skin. Its also a personal preference to choose between the balm and the oil.

Just a large pea size amount is all you need. Use on dry hands and apply neat to your skin working it all over.Using the rubber mitt will really work it in well! Next wet your hands and massage back over emulsifying the oil turning it into a milky residue. Rinse off with facial sponges or your preferred method of removal. Then enjoy that super clean nourished skin. Follow it with your recommended or favourite cleanser to actually 'treat and clean' your skin. Top tip. You may prefer this to precleanse oil in your toiletries bag for travel as it is less likely to spill. It comes in a handy travel size too along with a mini mitt.
intensive moisture cleanser
A light, creamy cleanser that effectively removes impurities while actively nourishing dry, depleted skin. The emollient, lipid-enriched formula containing BioReplenish Complex™, combined with phytoactives from Coconut and Murumuru Seed Butter, help protect and preserve the skin's natural resilience for a smoother feel after cleansing. Invigorating extracts of Citrus, Palmarosa and Jasmine refresh tired skin and smell simply delicious! Rinses away easily, leaving skin cleaner, softer and more luminous.
Massage onto the skin with wet hands then rinse with tepid water. Follow with the rest of your skin care routine.
If your skin is dehydrated choose whichever cleanser is best suited to your usual skin type and concentrate on moisture binding serums and moisturisers to rehydrate your skin. A good spritz with Multi Active Toner straight after your cleansing routine is the best way to ensure maximum hydration, then seal with Skin Smoothing Cream.
Daily, leave-on exfoliating treatment to brighten and tone all skin conditions. Self-neutralising, each precisely-measured, leave-on dose contains enzymes which work deeper into the skins surface to smooth the skin, helping to reduce the signs of premature ageing without irritation or redness. Full of amazing ingredients like Salicylic Acid to help with congestion, Hyaluronic Acid which is amazing for boosting hydration and Rice Extract to help even and brighten the skin's tone.
Pop on your finger and work over your skin daily. Leaves your skin completely clean and utterly glowing.
Not recommended for users of medically-prescribed exfoliation products.
Top selling and award winning toner from Dermalogica. Hydrating spray toner suitable for all skin types, it helps boost hydration and even out skin porosity. Allows your skin to properly prepare prior to moisturising, replenishing/protecting your water and lipids.

Works over the top of makeup and sunscreens too, so c

arry a travel size with you to spritz your skin and keep it hydrated and plump throughout your day.
After performing the Dermalogica Double Cleanse, spray directly over the entire face and throat with eyes closed. Follow immediately with prescribed Dermalogica Moisturiser.
intensive moisture balance
An ultra-nourishing moisturiser that restores lipid balance to dry, depleted skin for optimal barrier performance.

BioReplenish Complex™delivers a proven combination of key barrier lipids to help enhance the skin's natural resilience and support barrier recovery. Prebiotic Chlorella Algae Complex helps rebalance the skin's natural microbiome for a healthier skin. Hyaluronic Acid (Sodium Hyaluronate), combines with plant extracts to lock in hydration and enhance the skin's moisture content, reducing the appearance of fine lines.
Apply over damp face and throat, preferably after misting with a dermalogica spritz, with light upward strokes. Use twice daily, morning and night. Can be applied over serums for targeted results and/or mixed with solar defense booster for daylight protection.

skin smoothing cream

This next-generation formulation of Dermalogica's best-selling moisturiser features state-of-the-art Active HydraMesh Technology™ to infuse skin with 48 hours of continuous hydration and help protect against environmental stress. Medium weight texture and perfect for combination skin. Whilst infusing the skin with moisture, it also works to reduce TEWL (trans epidermal water loss) and shield your skin's natural microbiome. Also formulated with naturally-antioxidant Grape Seed Extract, Vitamin C and Vitamin E.
After cleansing and toning, apply over face and throat in light, upward strokes. Use twice daily, morning and night.

Can be applied over or mixed with prescribed Dermalogica boosters and serums for enhanced results.
Ultra-rich eye cream to target dehydration lines. This hydrating cream works to repair premature aging and damage around the delicate eye are with ingredients of Vitamin A, Wild Yam Extract and Pro-Vitamin B5. This clever product helps to increase resilience and smooth skin texture with phytonutrients and botanicals of Cucumber and Arnica, as vitamins C and E plus Grape Seed Extract shield the delicate eye area against further environmental damage.
After cleansing, gently pat around the eye area, blending inward from the outer corner. For a gentle application we recommend to use your ring fingers when applying product around the eye area as the skin is extremely delicate.
skin hydrating masque
Refreshing and cooling gel masque for dehydrated skin. A quick remedy for dry, stressed skin to restore your barrier lipids. Unique cross-linked Hyaluronic Acid traps moisture to deliver time-released hydration for lasting suppleness and Vitamin E antioxidant helps repair daily damage caused by free radicals
Quench, soothe and rejuvenate your skin in a flash.
Apply a smooth film to clean face and throat. Allow masque to absorb for 7 to 10 minutes. Rinse with tepid water or remove with sponges. Use once or twice a week as prescribed.

melting moisture masque
Extremely moisturising masque elegantly transforms from balm to oil to help restore dry skin.
Activated by skin's natural heat, our MeltingPoint Complex delivers a satisfying melting sensation as it penetrates skin's surface layers to deeply nourish and rehydrate.
Micro-algae's hydrating properties help soothe and protect skin against the drying effects of pollution.
Vitamin-rich, buttery formula delivers intense, lasting hydration for smooth skin.
Linoleic Acid nourishes while Vitamin E helps protect against skin-damaging free radicals for healthier-looking skin.
Apply a pea-sized amount on face and massage into skin. Avoid eyes. Leave on. Towel off excess, if necessary. Use once or twice a week, or as needed. Store at room temperature.
This amazing product is a feather-light treatment oil that rapidly absorbs to reinforce the skin's protective barrier. Wear it alone or layered under foundation for all-day dewy skin.
T
he next-generation formula takes a three-phase approach to replenishing protective lipids that are depleted by aging and environmental stress. Filled with Camellia and Tamanu oils to help restore the skin's natural barrier, Orchid Flower and Chia Seed Oil to smooth visible lines and lock in critical moisture as well as Sunflower, Rice Bran and Rosemary Extracts to create a luminous antioxidant shield against free radical damage. Ideal for daily use on normal to dry skin.
Hold bottle upside down for 2-3 seconds to initiate product flow.

After cleansing, press 4-6 drops into skin and follow with your Dermalogica Moisturiser. Alternatively, first mix into your moisturiser and apply.
Non-greasy formula suitable for all skin conditions.

Hydrating fluid concentrate relieves dryness and the appearance of fine lines. Hyaluronic Acid, Panthenol, Glycolipids and Algae Extract help restore moisture balance and minimize the appearance of fine dehydration lines.
Use prior to, or mix with, your moisturiser to help lift moisture levels. May also be applied directly to dry areas.
Squeeze a small dose onto fingertips and massage gently over cleansed face and throat.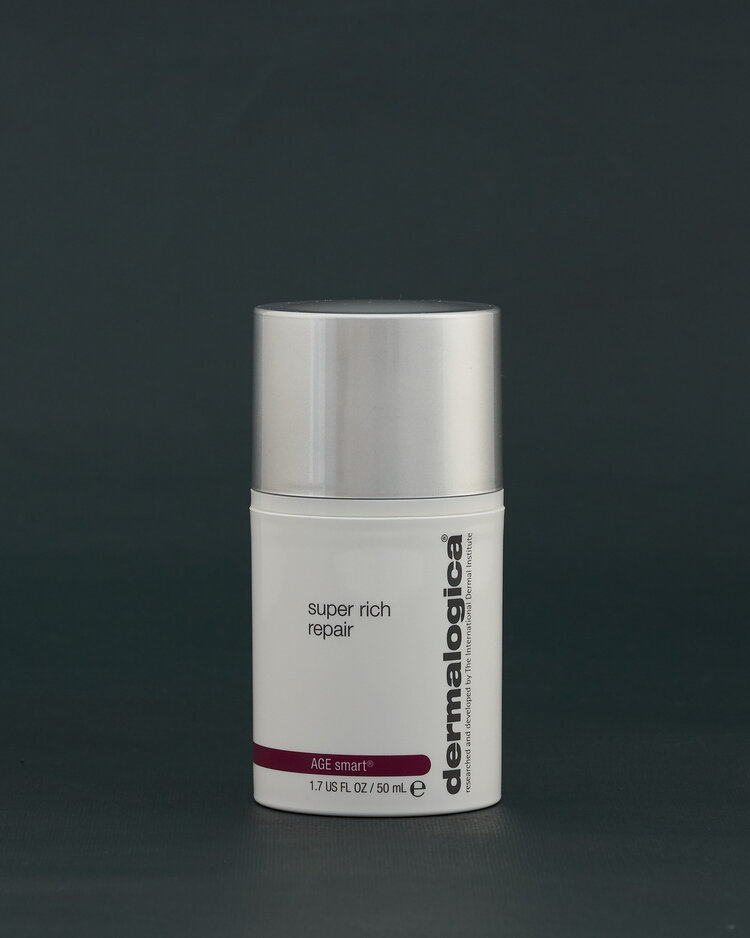 We stock a full range of all dermalogica products in The Beautique. We will deliver in our local area or you can arrange a time for a collection. Call 01869245118 and leave a message for a call back or
email: janebeautique@btinternet.com
You may prefer to purchase products seen here by going direct to dermalogica using the link or QR code below
We are offering a loyalty incentive
(separate to the scheme we run for in-salon purchases )
Please email
janebeautique@btinternet.com with your contact details including address and phone no. to register your interest in this scheme.
Deeply nourishing skin treatment cream for chronically dry and dehydrated skin. Heavyweight cream helps replenish skin's natural moisture levels to defend against environmental factors that cause havoc on our skin daily. Powerful peptides and an acid-free smoothing complex support skin resilience and tone. Shea Butter and Oil of Evening Primrose help replenish and hydrate, while antioxidants help defend against free radical damage.
Apply to face and neck with light, upward strokes.

Can be applied over serums for targeted results and/or mixed with solar defense booster for daylight protection

. Use once or twice daily.
solar defense booster spf50
Use this b
ooster neat for full strengh daylight protection or added to your skin health moisturiser to give essential UVA protection and defend against skin-aging free radicals. Green Tea and Grape seed extract

form an invisible shield against skin damaging environmental factors

. Antioxidant vitamins C and E improve skin smoothness and softness.
Apply evenly and liberally to face, preferably 30 minutes prior to sun exposure.
Mixed with your moisturiser or foundation will reduce the spf value to about half.
For continuous coverage, reapply regularly and as needed after swimming and exercise.
neck fit contour serum

A skin care workout for the neck.
With the help of the roller applicator, this product trains the neck to be tighter, smoother, more toned and contoured. Tightens immediately, and proven to tone in 12 weeks.
Flex Lift Contour Technology acts like an invisible mesh to immediately tighten skin. Plant-based science and a novel tripeptide ​deliver Retinol-like results, visibly smoothing, firming and toning skin. Resurrection Plant-inspired polysaccharide helps strengthen skin's moisture barrier for a smooth, even appearance.

Visibly lifts, tightens, firms and tones the neck and décolleté.
Smooths fine lines and helps protect skin against pollution.
Reduces the appearance of skin aging.
Turn applicator ON. Tilt chin up and roll applicator over entire neck, from the décolleté up to the jawline. Gently squeeze tube to dispense the serum while rolling. Return the applicator to the OFF position and continue rolling it in an upward motion over the skin to massage in the serum. Keep chin up until serum dries. Use morning and night. Once dry, seal with an SPF moisturiser or at night use sound sleep cocoon or super rich repair.

This luxury products is a revitalising treatment gel-cream that transforms skin overnight by optimising nighttime skin recovery.

Vitamin C and Persian Silk Tree extract provide overnight antioxidant protection,

Wu-Zhu-Yu Fruit extract boosts microcirculation and

Tamarind Seed Extract creates a nourishing cocoon of comfort by

reducing water loss and helping to protect skin's barrier.
E

ncapsulated, motion-activated e

ssential oil of

French Lavender (along with Sandalwood and Patchouli) work all night to promote deep, restful sleep. By morning you are rewarded with a

softer, hydrated, and more radiant skin.
It's an amazing pick me up for those with busy and stressful lifestyles!
Smooth over face and neck as the very last step of your nighttime regimen. Apply over toners and targeted treatments. (Can also be applied over moisturiser) Allow gel-cream to melt into skin overnight to enhance overnight hydration.