precleanse
An amazing 'pre cleanse' oil to remove make up, dirt, pollution and anything else that may be sitting on your skin. Even an oily skin will benefit from this product. A really lightweight olive and apricot kernel based cleansing oil with other amazing ingredients such as borage seed, rice bran, vitamin E and kukui to fortify & condition the skin. We know that oil removes oil, and this product certainly does, you won't feel clean until you have used this product.
Create a small pool of oil in the palm of your hand and apply neat to your skin, work in thoroughly all over your face. You can use this over your eyes too, (alternatively try ultra-calming cleanser if your eyes are quite sensitive) It will literally melt away everything sat on your skin including waterproof make up. Once massaged in well, wet your hands and massage over your face to emulsify the product - you'll see it go milky -this makes its water soluble and easy to remove. Remove with facial sponges or a flannel. Follow up with your favourite or recommended cleanser.
54% of women still go to bed with their make up on even after cleansing, so be sure to follow this double cleanse routine if you wish to see a real difference in your skin.
active clay cleanser
Our latest innovation replaces Dermal Clay Cleanser.
A new prebiotic cleanser which really targets oily and congested skin. The dual-action, mineral-rich clay and charcoal formula actively cleanses and purifies. Kaolin Clay absorbs excess oil, and Activated Binchotan Charcoal powerfully adsorbs impurities to help balance skin. Botanical lipids and Murumuru Seed work together to attract and remove excess oil from skin while helping to protect its natural lipid barrier and promote a healthy microbiome. A bioflavonoid-rich complex of Citrus, Aloe and Broccoli Extract helps purify pores while leaving skin smooth, refined and revitalized.
If you suffer with an oily shine this one really is for you!
Please be aware that most of the following products contain ingredients such as salicylic acid which should not be used when taking acne medications. Please consult with your GP and check with your skin care therapist which products are safe to use.
NEW AGE Bright Clearing Serum and AGE Bright Spot Fader are multitasking clearing-and-brightening formulas that help accelerate skin cell turnover to combat cell accumulation and reduce breakout-causing bacteria while promoting even skin tone.

clearing skin wash
An easy to use foaming skin wash that effectively clears away excess oil while maintaining healthy, hydrated skin. Calms and clears breakout-irritated skin and helps to prevent future breakouts. Salicylic Acid stimulates natural exfoliation to help clear clogged follicles and smooth away dullness that contributes to visible skin aging, while Menthol and Camphor help cool the skin. Contains Balm Mint (Melissa Officinalis Leaf Extract), Tea Tree (Melaleuca Alternifolia Leaf Oil) and Eucalyptus Globulus Leaf Extract.
Work a pea-sized amount into a lather in wet hands. Apply to dampened face and neck, massaging in circular motions while concentrating on areas of congestion, breakouts and oiliness. Avoid eye area. Rinse thoroughly with warm water.
Contraindications: If skin experiences sensitivity or dehydration from daily use, reduce use to 2-3 times per week. Discontinue use if irritation persists.
as an alternative opt for active clay cleanser or special cleansing gel.
special cleansing gel
One of the best selling soap-free foaming cleansers!
For those who love an easy to use foaming gel, suitable for all skin conditions to use on a daily basis. The refreshing lather thoroughly removes impurities, without disturbing the skin's natural moisture balance. This iconic cleanser, which contains naturally-foaming Quillaja Saponaria, gently rinses away toxins and debris to leave skin feeling smooth and clean. Lightweight and mild enough to use every day, it also features calming Balm Mint and Lavender extracts to soothe the skin. You won't need much more than a 20p size, mix up on wet hands and add extra water to get a gentle foam - you wont' get it really foamy as there is no soap in it (this is a good thing, as well as clogging pores, soap is super stripping of the skins natural defenses, leaving it more susceptible to bacterial invasion) then wash your face over the sink or in the shower. Rinse well with water and apply your toner/mist, followed by your prescribed serum/booster/moisturiser. This product is great for morning and night use and amazing after precleanse/precleanse balm. They make the perfect cleansing duo!
AGE bright clearing serum
A two-in-one brightening and clearing serum that clears and prevents breakouts while reducing visible skin aging. This highly concentrated serum contains salycilic acid which exfoliates and helps clear breakouts, at the same time accelerating cell turnover to reduce signs of skin aging. The AGE Bright™Complex works with the skins microbiome for clearer, brighter skin. Phytoactives from resurrection plant, known for its ability to survive extreme dehydration, hydrate and smooth the skin. Niacinamide works alongside white shitake mushroom to promote brighter, more even, skin tone. Apply a thin layer and allow to dry. Use all over the face and under your recommended Dermalogica moisturiser twice a day or as needed.
overnight clearing gel
Smooth over skin after
cleansing at night.
Night time gel containing salicylic acid that helps clear skin congestion and prevent future breakouts plus a unique blend of ingredients that inhibit overactive sebaceous gland activity, purify to promote skin clarity and help calm irritation brought on by breakouts. Also includes naturally-antiseptic Tea Tree oil and Green Tea to soothe while you sleep.
AGE bright spot fader


This two-in-one spot treatment contains Salicylic Acid which works to clear breakouts, while Niacinamide

(Vitamin B3)

and Hexylresorcinol work synergistically to fade post-breakout marks, improving uneven skin tone. AGE Bright™ Complex containing Terpineol and Thymol,

helps reduce P.acnes (responsible for the formation of acne) and sebum and

works with the skin's natural microbiome to promote clearer, brighter skin.
Apply directly upon first sign of breakout. Reapply twice a day until spot fades
Oil-absorbing clay mask to help fight breakouts, minimise pores and counter fine dehydrated lines.
Apply a smooth layer to cleansed face and neck (avoiding the eye area) 2-3 times per week. May also be used exclusively on the T-zone. Leave on for 10 minutes, then rinse thoroughly with warm water.

Contraindications for use. Product contains Salicylic Acid and may irritate very sensitive skin. Discontinue use if any undue redness or irritation occurs. Not for those who currently take acne medication. For external use only. Avoid contact with eyes.
New retinol clearing oil
High-performance night oil combines Retinol and breakout-clearing Salicylic Acid into one skin-soothing formula. Time-released Retinol helps reduce visible signs of premature aging. Salicylic Acid helps clear breakouts. Argan, Rosehip Seed and Golden Jojoba oils actively nourish skin.
Use only at night. Press button and release to fill dropper. At night, after cleansing, gently press button to dispense 6-10 drops into hands. Smooth over face and neck, avoiding the eye area. Follow with your moisturiser or sound sleep cocoon.
We recommend only gentle at-home exfoliation for a breakout prone skin. Choose one or both of these effective, but non abrasive, exfoliants to encourage cell turnover, thus enabling the natural healing ability of the skin. A little light exfoliation will also prep the skin, allowing for a more efficient use of the actives in the above serums. Please be aware that salicylic acid in many of the acne clearing products is an exfoliating ingredient in its own right therefore you may be advised to use these 'daily' exfoliators
less
frequently, if at all, depending on your skin and the rest of your regimen. Please feel free to call us for advise before purchasing. You may also like to discuss your suitability for a professional salon treatment such as ProPowerPeel.
Daily, leave-on exfoliating treatment to brighten and tone all skin conditions. Self-neutralising, each precisely-measured, leave-on dose contains enzymes which work deeper into the skins surface to smooth the skin, helping to reduce the signs of premature ageing without irritation or redness. Full of amazing ingredients like Salicylic Acid to help with congestion, Hyaluronic Acid which is amazing for boosting hydration and Rice Extract to help even and brighten the skin's tone.
Pop on your finger and work over your skin daily. Leaves your skin completely clean and utterly glowing.
Not recommended for users of medically-prescribed exfoliation products.
daily microfoliant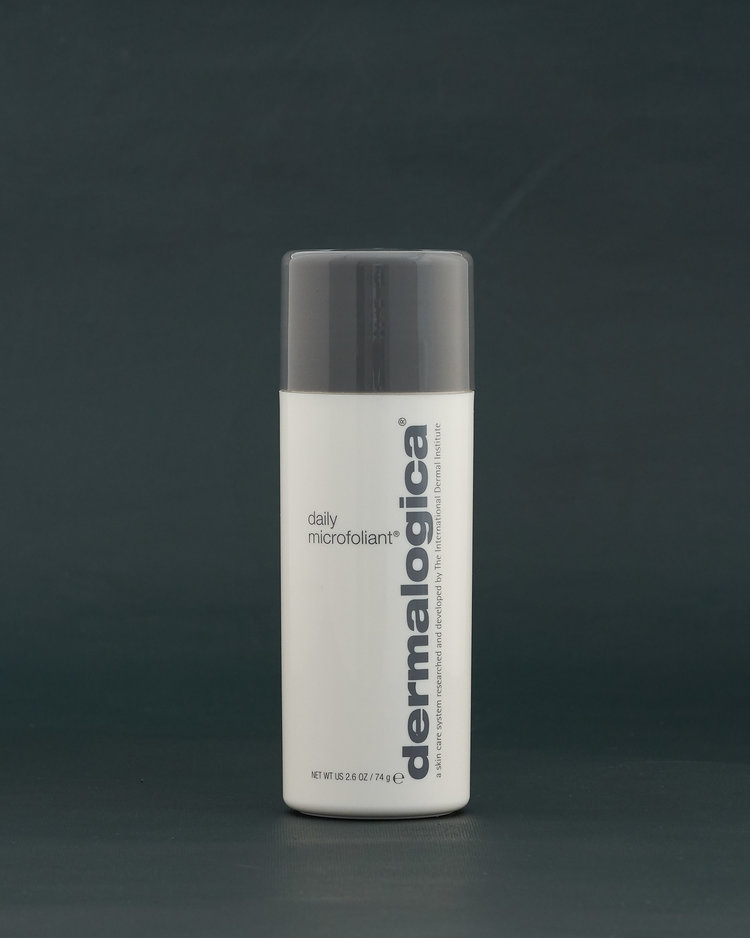 Rice-based powder activates upon contact with water, releasing Papain, Salicylic Acid and Rice Enzymes to polish skin to perfection. A Skin Brightening Complex of Phytic Acid from Rice Bran, White Tea and Licorice helps balance uneven skin tone while a super-soothing blend of Colloidal Oatmeal and Allantoin calms skin. Gentle enough for daily use.

On wet hands, pour half a teaspoon of the powder into your palm, add a little more water and rub hands together to get a smooth paste. Apply to face and then add a little more water until you feel the granules almost disappear into a really light foam. Massage for a good minute or two or use with a sonic brush. Rinse well with water or facial sponges. Use either morning or evening, whichever is your personal preference.
Top selling and award winner toner from Dermalogica. Super hydrating spray toner suitable for all skin types, it helps boost hydration and even out skin porosity and allows your skin to properly prepare prior to moisturising.
Don't be scared to hydrate and moisturise your skin just because it is oily, it is essential to protect the barrier function of your skin especially after using oil absorbing cleansers and masques. Your skin therpaist can recommend you a choice of oil free moisturisers, but first a good drenching with multi active toner will help rebalance your skins optimum ph and replenish and protect your water and lipids.
T
ake a travel size with you to keep your skin hydrated and protected throughout your day. Spritz over makeup and sunscreens too.
After performing the Dermalogica Double Cleanse, spray directly over the entire face and throat with eyes closed. Follow with prescribed Dermalogica serums and moisturiser.
We stock a full range of all dermalogica products in The Beautique. We will deliver in our local area or you can arrange a time for a collection. Call 01869245118 and leave a message for a call back or
email: janebeautique@btinternet.com
You may prefer to purchase products seen here by going direct to dermalogica using the
QR code opposite
One of Dermalogica's top selling and award winning moisturisers. Sheer, oil free, easy-to-apply, Active Moist's formula contains Silk Amino Acids and a unique combination of plant extracts that help improve skin texture and combat surface dehydration.
Apply over damp face and throat with light, upward strokes.
Best when used following Dermalogica's Multi-Active Toner.
Can be applied over or mixed with prescribed Dermalogica boosters and serums for enhanced results. Add
solar defense booster spf50 for daylight protection.
Broad Spectrum sunscreen helps prevent shine and skin ageing on oily, breakout-prone skin. Lightweight, ultra-sheer formula

provides defense against skin-ageing UV light and

contains an advanced blend of Zinc Gluconate, Caffeine, Niacinamide, Biotin and Yeast Extract. Oil-absorbers which help maintain an all-day matte finish, preventing shine without any powdery residue.
Apply evenly and liberally to face, preferably 15 minutes prior to sun exposure. Or, mix with your moisturizer or foundation, then apply. For continuous coverage, apply regularly and reapply as needed after swimming and exercise.
We are offering a loyalty incentive (separate to the scheme we run for in-salon purchases )Please email
janebeautique@btinternet.com with your contact details including address and phone no. to register your interest in this scheme.
To get you started

active clearing skin kit

→