skin resurfacing cleanser
Dual-action exfoliating cleanser helps retexture ageing skin. Achieve smooth, ultra-clean skin with this highly-active, two-in-one cleanser and exfoliant. The lactic Acid works hard to helps retexture skin suffering from visible signs of ageing by removing unwanted surface debris and helping to accelerate skin cell turnover. This product is great for those busy and tight for time in the mornings-cut down your morning routine and skip the extra exfoliation step by using this two-in-one product.
Following the application of PreCleanse, lightly lather in hands and apply to damp face and throat morning and evening, massaging with light, upward strokes for at least 30 seconds to really make sure it is working deep into the skin's follicles. Avoid the eye area and reduce to one use per day if any sensitivity develops. Follow with Dynamic Skin Recovery SPF50 when used in the morning.
For an increased brightening and super exfoliation effect, first mix daily microfoliant as directed below then combine with this resurfacing cleanser.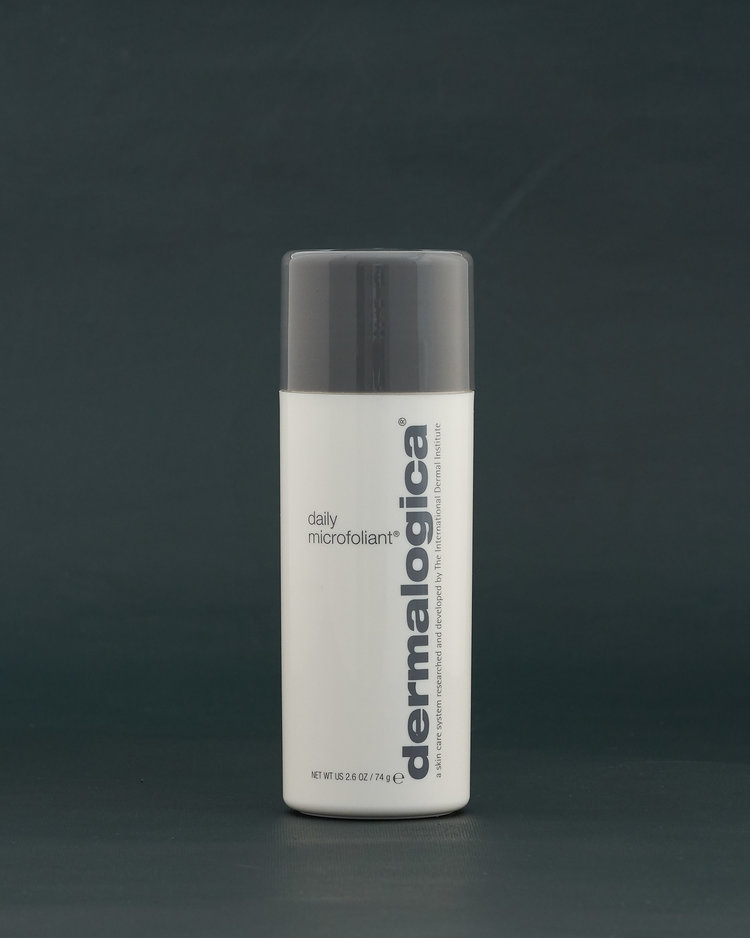 daily microfoliant
There isn't an award this product hasn't won and year after year too! Achieve brighter, smoother skin every day with this iconic exfoliating powder. Rice-based powder activates upon contact with water, releasing Papain, Salicylic Acid and Rice Enzymes to gently but effectively polish skin to perfection. A Skin Brightening Complex of Phytic Acid from Rice Bran, White Tea and Licorice helps balance uneven skin tone while a super-soothing blend of Colloidal Oatmeal and Allantoin calms skin. On wet hands, pour half a teaspoon of the powder into your palm, add a little more water and rub hands together to get a smooth paste. Apply to face and then add a little more water until you feel the granules almost disappears, you want it to be like a really light foam. Massage for a good minute to allow for activation, or use with a sonic brush. Rinse well with water or facial sponges. And glow! Gentle enough for daily use. Use either morning or evening, whichever is your personal preference.



rapid reveal peel

To really kick-start cell renewal and achieve visible radiance choose this professional strength at-home peel. Maximum strength, but delivering powerful results with no downtime. A unique complex of phytoactive AHA extracts, Lactic Acid and fermented plant enzymes helps reveal new, firmer skin, reducing the appearance of fine lines and wrinkles by removing dulling surface debris without causing dehydration. Pumpkin Fruit Enzyme and Rice Bran Extract help even skin tone by resurfacing the skin and accelerating cell turnover while smoothing Australian Caviar Lime Extract brightens skin for a more radiant complexion.

Rapid Reveal Peel comes in a 10-pack-

u

se one whole ampoule daily for 3 days,
then use one once a week for the following 7 weeks. Massage in your skin for between 3-7 minutes after cleansing, rinse with cool water and if time allows relax with one of our nourishing masques before applying your serums and moisturisers.
Avoid the eye area. Warm & tingly sensation is normal, but if uncomfortable remove immediately. Recommended for evening use.
antioxidant hydramist
Refreshing antioxidant toner that helps firm and hydrate. Convenient mist-on formula supplements skin's protective barrier by creating an active antioxidant shield to help fight free radical damage, and help prevent the signs of ageing. With clever ingredients like Pea Extract to help firm skin, while Rose and Clove extract comfort and refresh, making this mist ideal for use after cleansing or throughout the day.
After cleansing and just prior to application of serums and moisturiser, spritz directly onto face and neck, avoiding the eyes. Also ideal as a refreshing spritz over make-up throughout the day.
If your uneven skin tone is a result of breakout activity and the resulting discolouration left behind long after those spots have disappeared then the next two products are for you
AGE bright clearing serum
This active two-in-one serum clears and helps prevent breakouts while reducing visible skin aging. Salicylic Acid reduces breakouts to clear skin. This highly-concentrated serum exfoliates to help prevent breakouts and accelerates cell turnover to reduce signs of skin aging. AGE Bright™ Complex works with the skin's natural microbiome for clearer, brighter skin. Phytoactives from Resurrection Plant, known for its ability to survive extreme dehydration, hydrate and smooth skin. Niacinamide works together with White Shiitake Mushroom to promote brighter, more even skin tone.
Apply a thin layer and allow to dry. Use all over the face and under your recommended Dermalogica moisturiser twice a day, as needed.
AGE bright spot fader
This two-in-one spot treatment reduces the appearance of active breakouts and post-breakout marks. Salicylic Acid works to clear breakouts, while Niacinamide and Hexylresorcinol work synergistically to fade post-breakout marks, improving uneven skin tone. AGE Bright™ Complex reduces visible skin aging and helps prevent over-drying.
If your uneven skin tone is mostly due to hyperpigmentation due to a combination of sun exposure, hormonal influences, and ageing then use these PowerBright products regularly alongside professional strength exfoliation and you should start to see an improvement.
C-12 pure bright serum
Lightweight, highly-active topical treatment combats hyperpigmentation (brown spots, discoloration and uneven skin tone) day and night. Advanced formula absorbs quickly to optimize efficacy while helping to increase skin luminosity. Contains an exclusive blend of Oligopeptides, plus Rice-derived Phytic Acid, antioxidant Zinc Glycinate, and Red and Brown Algae to help regulate melanin (pigment) formation to treat hyperpigmentation at its source.
After cleansing, apply directly to areas of uneven skin tone. For best results, use twice daily. Allow one minute for product absorption. For best results, follow with Pure Light SPF50 during the day and Pure Night during the evening. Protect your skin from UV rays – a top contributor to brown spots and uneven skin tone – by regularly applying Pure Light SPF50
pure light spf50
Shield the skin from UV-induced hyperpigmentation (brown spots, discoloration and uneven skin tone) with this medium-weight daytime treatment. It features Oleosome technology, which uses natural plant spheres filled with sunscreens to increase SPF performance. A powerful peptide helps regulate melanin production while a potent blend of Red and Brown Algae combined with botanical extracts, help balance uneven skin tone. Cross-linked Hyaluronic Acid fortifies the skin's natural moisture barrier, reducing the appearance of fine dehydration lines.
Smooth a generous amount to face and neck, avoiding the eye area, preferably 30 minutes prior to sun exposure. For best results, apply after C-12 Pure Bright Serum. Use as a daily moisturiser for year-round protection against sun damage that can lead to signs of aging.
pure night
Restore skin luminosity and maximize PowerBright TRx™ results with this rich, nighttime moisturiser. It helps reduce the appearance of brown spots and uneven skin tone while you sleep with an active blend of skin-brightening agents. Oligopeptide, brightening Vitamin C, Niacinamide and Zinc Glycinate help control melanin (pigment) formation and hyperpigmentation, while Pumpkin enzyme smooths the skin. Cranberry and Raspberry Seed oils help restore critical barrier lipids, optimizing skin hydration and reducing the appearance of fine dehydration lines. White Bird of Paradise Seed Extract helps increase skin luminosity while Vitamin C and Moth Bean Seed Extract fight signs of aging.
Apply in the evening to entire face and neck. For best results, apply after C-12 Pure Bright Serum. Integrate this and other PowerBright TRx™ products into your regular Dermalogica regimen for added skin brightening benefits.
Where less damage is present and prevention is key, this scientifically advanced sunscreen will protect and moisturise whilst enhancing your skins natural, youthful luminosity
prisma protect SPF30
Light-activated multitasking moisturiser provides broad spectrum defense while preventing future signs of skin damage. Intelligent drone technology is activated by visible light to help boost skin's natural luminosity. Breakthrough antioxidant technology helps protect skin against pollution. Broad Spectrum Defense SPF30 provides protection from UV damage, while a bio-ferment from sage helps maintain an even skin tone. Advanced moisture magnets provide all-day hydration for visibly smooth skin.
After cleansing and toning, apply a generous amount to face and neck, preferably 30 minutes prior to sun exposure.
Primers and tinted moisturisers will further
enhance the appearance of your skin by
helping to smooth out any remaining unevenness. And finally check out the two eye products which are clear winners when it comes to brightening and disguising dark skin around the eye area.
hydrablur primer
Hydrating, fine-line blurring makeup primer. Great for dry skin types, it provides intense, sustained release moisturisation. Enhancing skin's radiance and reducing pore appearance, it offer's a light, neutral tint coverage whilst working to brighten and smooth your skin's tone. Wear over your moisturiser, or after moisturiser and before foundation for a lasting makeup finish.
After applying prescribed Dermalogica Moisturiser, smooth and blend over entire face and throat. Can be worn alone for flawless-looking skin or under make-up for a smooth canvas
sheer tint SPF30
A skin care treatment and makeup in one product. Lightly-tinted hydrating treatment provides an all-day sheer wash of color to even and brighten your skin's natural tone. Natural, light-diffusing Iron Oxides provide translucent color for radiant skin, while Broad Spectrum sunscreens shield against damaging UV rays.
After moisturising, dot onto cheek, chin, forehead and nose. Blend evenly with fingertips, brush or sponge
total eye care spf30
SPF eye cream conceals dark circles. Retexturize to help reduce the appearance of puffiness and fine lines with skin-smoothing alpha hydroxy acids and plant extracts. Optical light diffusers help diminish dark circles and a chemical-free sunscreen helps to shield against further damage.
After cleansing in the morning, gently pat around the entire eye area, blending inward from the outer corner. This gentle formula makes this product ideal for contact lens wearers.
biolumin-c eye serum
Supercharged Vitamin C eye serum outsmarts visible premature skin aging caused by daily eye
movements and environmental stress. Lightweight serum delivers a highly-bioavailable Vitamin C complex to the skin around the eyes to dramatically brighten and visibly firm. Polyphenol-rich Arjun Tree Extract and
skin-nourishing Chia Seed oil rehydrate the skin, improving elasticity and diminishing the appearance of fine lines. Nutrient-dense Tremella Mushroom and
Micro-Algae blend locks in moisture, while Poria Mushroom helps boost skin's natural luminosity.
Use morning and night around the eye area. Grain of rice size.
.
For a final boost, the addition of this potent Vitamin-C serum to your skincare regime will help your skin to fight off further damage whilst improving texture and radiance.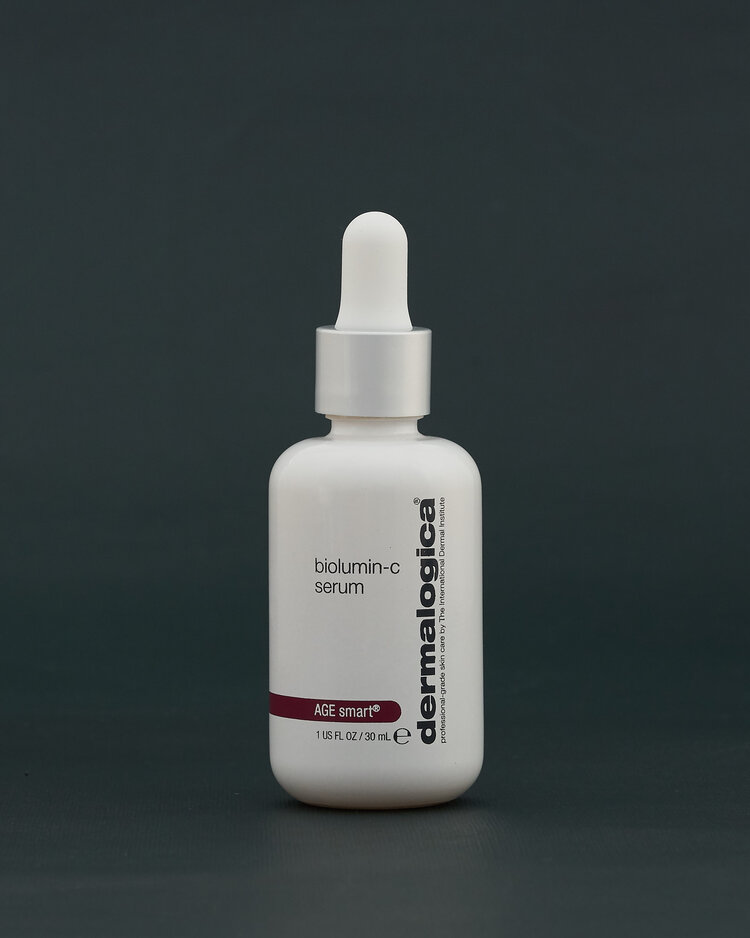 biolumin-c serum
A high-performance Vitamin C serum that works with our skin's own defences to brighten and firm. Advanced bio-technology fuses ultra-stable Vitamin C and Palmitoyl Tripeptide-5, helping to dramatically reduce the appearance of fine lines and wrinkles. Formulated with advanced technology to deliver more Vitamin C into skin. This superior formula outperforms other Vitamin C products (including those formulated at higher concentrations). Other key ingredients include Vitamin C Complex for brighter, firmer, more radiant skin, Lactic Acid to accelerate cell turnover, Sophora Japonica Flower Extract to help return skin to a calm state after experiencing oxidative stress, and Salvia Hispanica (Chia Seed) Oil to hydrate and help quench free radicals.
Dispense a full dropper and smooth over cleansed face and neck morning and night, after toning and before moisturising. Use morning and/or night to brighten, firm and reduce the appearance of fine lines and help skin defend itself from oxidative stress. Make sure to keep the bottle screwed tight to prevent any evaporation of Vitamin C to make sure you get the best lasting results from this clever product.