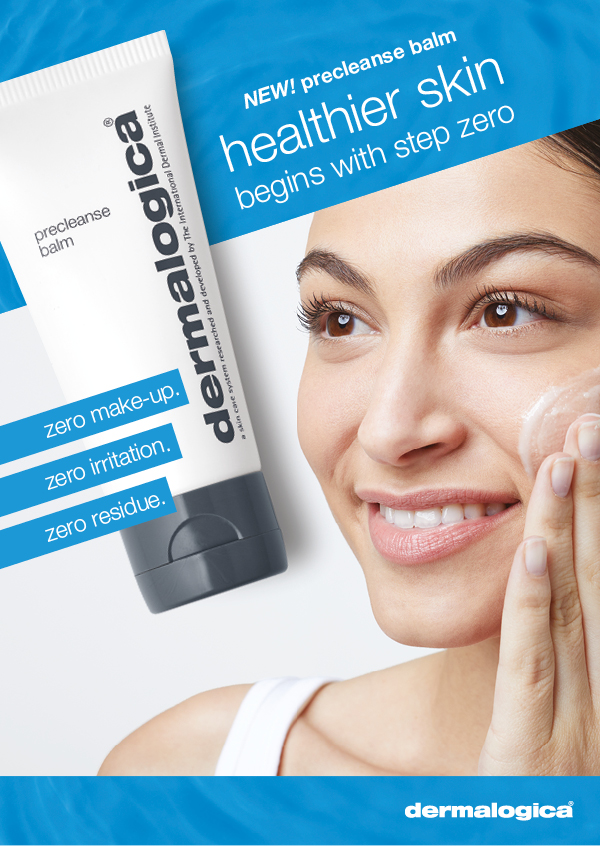 Step Zero -
The first step of the Dermalogica Double Cleanse for your cleanest skin ever! Achieve clean and healthy skin with the Double Cleanse regimen that begins with PreCleanse. This balm-to-oil version of our top-selling Pre Cleanse oil deconstructs layers of excess sebum (oil), waterproof make-up, environmental pollutants and residual product buildup. Add water to transform this hydrophilic (water-loving) formula into a milky emulsion that easily rinses debris from the skin's surface, allowing your recommended Dermalogica Cleanser to provide professional cleansing results. Ideal for all skin conditions. Safe for use around the eye area. Comes with an all-in-one soft touch, double-sided cleansing mitt applicator to assist the PreCleanse Balm in offering a gentle yet effective cleanse. One side has smaller, shorter bristles, and the other side has larger, thicker bristles to help customize the cleansing experience. The mitt has been ergonomically designed for easy use. Easy to dry and store by fitting the mitt over the tube.
how to use
Gently squeeze tube to dispense product onto cleansing mitt or directly to dry fingertips. Massage product into dry skin using circular motions.

Add water to emulsify and continue with circular motions over the face to remove excess oil, sweat, waterproof makeup and pollution.
Ideal for all skin conditions and safe for use around the eye area.
Check out our
NEW SKIN FITNESS PLAN
(this service is free of charge)
and get Skin Fit in 2018
New at the Beautique
Beautique Bar
We would like to entice and excite you with some ideas for a fresh new look or hope to help you with some quick fix, problem-solving treatments.
The following express treatments (10-20minutes) are all offered at a cost of £10 which can then be redeemed against a £30 related products purchases
Bar Menus;
Skin-Bar, Skin Solvers Menu;
· Detox Skin Solver – to resurface, detoxify and protect the skin from environmental damage

· Flash Glow – a powerful exfoliation followed by a moisture boost and flawless finish

· Lip Service – showcasing our new Nightly Lip Treatment. Restore hydration, smooth lines and reduce the appearance of lip ageing. A great way to help restore volume, hydration and deliver quick, visible lip benefits, so you can focus on what matters most—your smile.

· Bright Eyes - to illuminate the eye area and promote an energised, positive appearance while the body is experiencing stress. It delivers quick, visible eye benefits, letting you focus on what matters most—not your tired eyes.

Mii Bar;

· Brow by Mii – lesson in sculpting/ highlighting and reshaping of brows

· Mii Minerals – application of mineral base, blusher and eyeshadow

· Sculpture Mii – a lesson in sculpturing, contouring and highlighting

· Natural Mii – learn how to create a natural look with minimal effort

· Colour Mii – experiment with colour on eyes and lips

· Shock Mii – Explore a more dramatic effect on your eyes

· Hide Mii – The art of concealing, covering or diminishing undesirable blemishes, dark circles, high colour or pigmentation.

Blinc Bar;

· Blinc - Trial application of Blinc Brow Mousse, Mascara, Eyeliner and Concealer

Nail Bar;

· File and Protect – nail analysis, cut/file and Protective Base application.

· Long-time Shine – Protective Base followed by Gel Finish for extra strength

· Polished – Jessica Protective Base + Colour Polish + Top Coat

· French – natural effect with white tips

Please Note there will be limited availability for these treatments on a first come first served basis.

Walk-ins only, no prior bookings can be taken.

Look out for our BAR OPEN SIGN in The Beautique
New Muscle re-Education
with Microcurrent technology:
Skin Rejuvenation Facial 50-60mins £65.00
Targeting facial muscles to specifically lift, tone and improve the overall texture and appearance of the skin
Invisible Expression Facial 50-60mins £65.00
Focusing on the eyes and forehead using microcurrent technology to lift, soften and decrease expression lines
These two new facials
are the latest additions to our dermalogica
expertactive programme
which also includes:
BioSurface Peel
Our most powerful resurfacing system to date. Whether you are looking to address hyper-pigmentation and uneven skin tone, fine lines and wrinkles or acne breakouts Dermalogica BioSurfaceTMPeel is unlike any other professional treatment on the market. It delivers visible results without triggering the adverse side effects of aggressive chemical peels.
Our unique, multi phase approach works with the skins biology to safely slough away dull epidermal layers and accelerate cell renewal without inflammation and prolonged downtime typically associated with chemical peels.
and
IonActive Power Treatment
Targeting challenging skin concerns such as acne, ageing, dehydration, and hyperpigmentation this latest treatment utilises micro encapsulated, bio-charged, active ingredients which, where applicable, are applied in combination with the latest electro technology to increase their effectiveness and intensify results. Application of a thermally active geloid masque compliments and completes your experience
For prices visit our dermalogica facial treatments page
Daily Superfoliant™ from Dermalogica is a resurfacing, anti-pollution powder exfoliant.Smooth away the day with this highly-active powder resurfacer, Daily Superfoliant™ delivers ultra-smooth skin while fighting the biochemical and environmental triggers known to accelerate skin-ageing. This product may be used daily, or for more sensitive skin, apply on alternate days until skin acclimatizes.