OPENING HOURS
Monday 9:00am - 5:00pm
Please note we will be closed on
Monday 1st October
Monday 8th October
and Monday29th October
Tuesday 9:00am - 5.00pm
Wednesday 9:00am - 5:30pm
Thursday 9:00am - 7:00pm*
Friday 9:00am - 6:00pm*
Saturday 9:00am - 5:00pm
Early closing Saturday 22nd September 9am-1pm
Please note we are closed on Good Friday and all Bank Holidays
*Late opening times are for appointments only and may vary.
Please phone ahead if you intend to visit late without an appointment.
DERMALOGICA PURCHASES
You can visit our salon for all your Dermalogica purchases
or buy direct from Dermalogica using this link: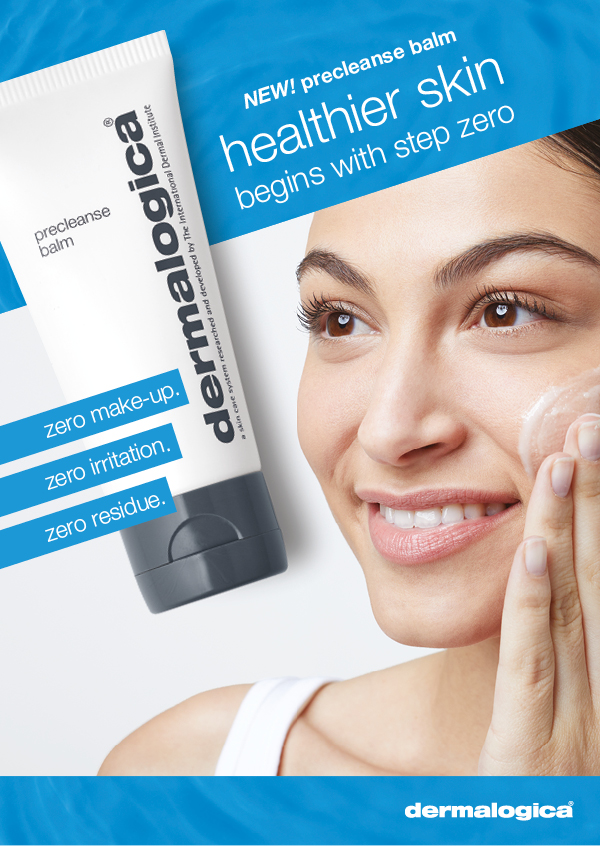 Step Zero
The first step of the Dermalogica Double Cleanse for your cleanest skin ever! Achieve clean and healthy skin with the Double Cleanse regimen that begins with PreCleanse. This balm-to-oil version of our top-selling Pre Cleanse oil deconstructs layers of excess sebum (oil), waterproof make-up, environmental pollutants and residual product buildup. Add water to transform this hydrophilic (water-loving) formula into a milky emulsion that easily rinses debris from the skin's surface, allowing your recommended Dermalogica Cleanser to provide professional cleansing results. Ideal for all skin conditions. Safe for use around the eye area. Comes with an all-in-one soft touch, double-sided cleansing mitt applicator to assist the PreCleanse Balm in offering a gentle yet effective cleanse. One side has smaller, shorter bristles, and the other side has larger, thicker bristles to help customize the cleansing experience. The mitt has been ergonomically designed for easy use. Easy to dry and store by fitting the mitt over the tube.
ABOUT US
Established in Bicester in 1983. We are a professional Ladies Beauty Salon, offering a wide range of therapies in a relaxing and friendly environment. We are dedicated to skin health and use dermalogica professional skincare in all our Facial and Body Spa treatments.
Uniquely, we use Traditional Hot Wax for hair removal. We find this to be extremely effective particularly on strong,stubborn hair growth, yet surprisingly gentle on the skin, allowing a comparatively painless treatment.
For facial hair we also offer and recommend electrical epilation (electrolysis) which produces a more effective and progressively permanent solution to problem hair. You will find our staff highly skilled and sensitive to your needs.
If you wish to discuss, at length, any proposed treatments a consultation appointment is recommended. All consultations are free of charge.
SERVICES
Facials
Body Treatments
Fake Bake Safe Tanning
Manicure / Pedicure
Hair Removal
Make-up
Eyelash / Eyebrow tinting and shaping
Ear Piercing
Combination Treatment Packages

LUXE LASHES by Becca MacKay
A new and independent service being offered in house by our therapist Becca
Trained and qualified with Lash Perfect she can offer their
Classic style of Lash Extensions
in a variety of curls, length, and thickness
see our
new
page for more details